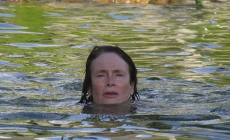 Ann Pachner lives and works in New York City.

Ann Pachner's body of work, consists of drawings, archival digital prints and wood carving.The digital prints explore both the nature of print as variations on a theme and the more personal exploratory process of sifting into a generative place of silence. Through mark-making with pencil or chisel or grinder Pachner's lines suggest hair, water, and fire. The work points to that which lies beyond form, No Thing —the multi dimensional, layered, vibrational experiencing of being

Pachner has had thirteen one-person shows at A.I.R. gallery in New York City. She is a recipient of a National Endowment for the Arts grant and a New York Foundation for the Arts grant.

In addition to her personal fine arts practice, Pachner founded Working Artist Ink, a fine arts design service established to partner with artists to achieve their individual vision.